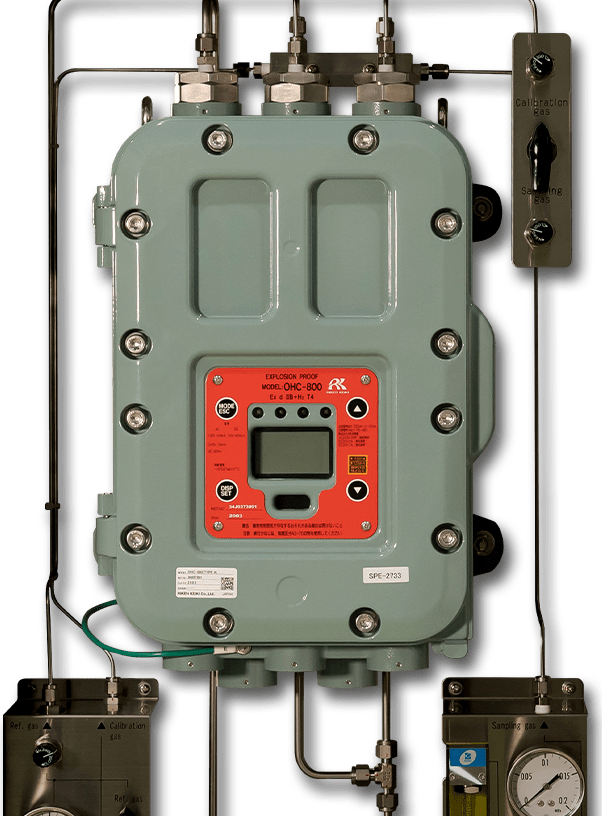 Explosion-proof gas calorimeter OHC-800
Support full range of fuel gases such as :
High accuracyOIML R140 class A

-Natural gas
-Natural gas + Hydrogen

Continuous measurement

Data updated every 0.25 seconds

High-speed response

T90 within 5 seconds
About OHC-800
Improve Combustion efficiency

High-speed response / Stable calorific values

Low maintenance costs
OHC-800
Address all Gas Calorimeter challenges!
Comparisons of calorimetric solutions
Detection method

Opt-Sonic
(OHC-800)

Gas
chromatography(GC)

Combustion type

Densimeter

Accuracy
Excellent

Repeatability: 0.02MJ/m3

Excellent

Repeatability: +/- 1.0%FS

Fair

Repeatability
High heating value: ±1.0% MJ/Nm3
Low heating value: ±1.5%MJ/Nm3

Poor

Effect by interference gases i.e.. CO2, N2

Continuous measurement
Excellent

Data updated every 0.25 seconds

Poor

Impossible

Excellent

Possible

Excellent

Possible

High-speed response
Excellent

T90 within 5 seconds

Poor

Analysis time 3-4 minutes

Fair

41-60 seconds or less

Excellent

T90 within 5 seconds

Running cost
Excellent

Measurement gas: 0.3L/min
Reference gas: 0.01 L/min(Air/N2)
Sensor replacement: Not Necessary

Poor

Measurement gas: 0.3-0.5L/min
Calibration gas: 1.2scf/day
Sensor replacement: every 1 -3 years
Carrier gas (He) : 50L/2years

Fair

Measurement gas: 10L/min
Calibration gas: required
Sensor OH: every 1 -3 years
Instrument air: 50L/min

Fair

Measurement gas: 0.1-1L/min
Calibration gas: required
Sensor OH: every 2 -5 years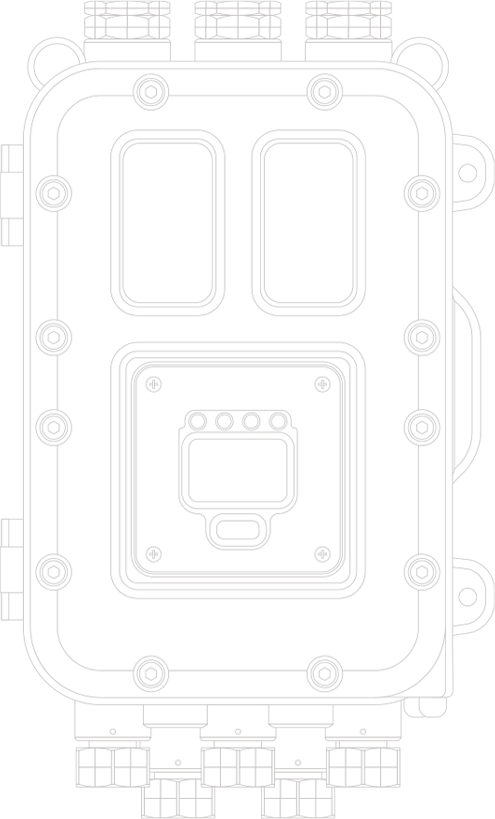 Why Choose Riken Products
All in one explosion-proof gas calorimeter which features high accuracy, continuous measurement and high-speed response.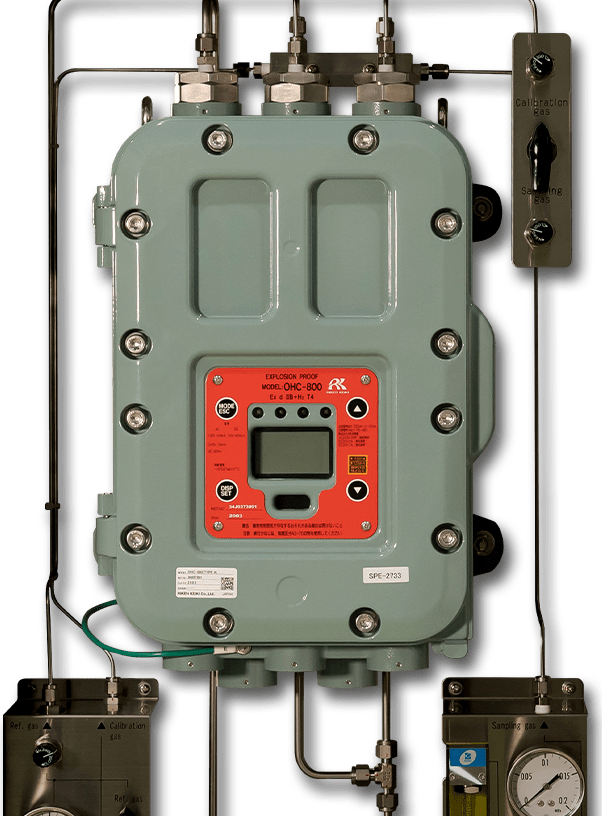 Continuous measurement
Measurement data can be updated every 0.25 seconds, a feature which is not possible with gas chromatography. Robust design for all measurement environments eliminates the risk of measurement outages.

Comparison data of OHC-800 and GC measurements of fuel gas containing nitrogen. OHC-800 has the same high accuracy as the gas chromatograph, furthermore OHC-800 will perform continuous measurement, rapid change tracking without affected by N2, which is not able to be observed by GC.
High accuracy
By combining an optical sensor and a sound velocity sensor to perform unique calculations, the system is not affected by interference from gases that do not have heat content, such as N2, CO2, and O2.
The OHC-800 has OIML R140 the highest class "A" approval for natural gas, and a mixed gas of natural gas + hydrogen up to 20vol%.
<What is OIML?>
The OIML is an "international standard-setting body" in the sense of the World Trade Organization's Technical Barriers to Trade Agreement.
Click here and find the downloads for more details about OIML R140 and its certificate.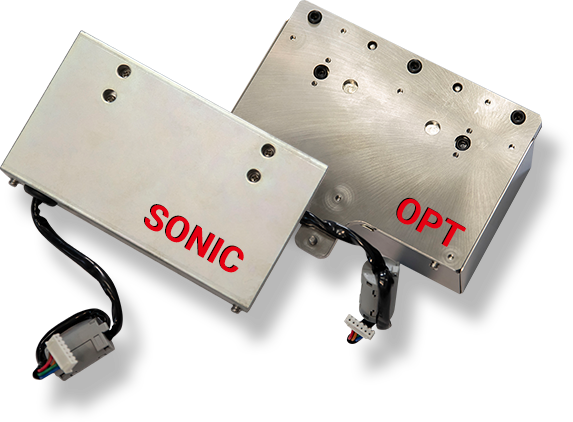 Click each item to see the details.
High trackability

High trackability

Measurement does not become erratic in the course of change but remains in a smooth curve.

Low running cost due to very low maintenance

Low running cost due to very low maintenance

Both types of sensors are non consumable, low maintenance, and contaminate resistant.
The reference gas consumption is 10 mL/min and the measurement gas is 300 mL/min. There is no need for carrier gas, as required for gas chromatography. It is also unnecessary to adjust sensitivity in the field.

Robust product structure

Robust product structure

a robust product design that can withstand harsh environments, eliminates the risk of sudden measurement outages.
Operating temperature: -20°C to +57°C
Equivalent to IP66/67
Various explosion-proof certified product ATEX/IECEX/FM/Japan EX
OHC-800 Applications
The OHC-800 has been introduced into various industrial sectors where calorimetric measurement is required, such as oil refining, steel industry, ship building, laboratories, universities, food industry, gas companies, turbine manufacturers, and glass manufacturers.
Optimization of air-fuel ratio for turbines and furnaces

Calorific efficiency brings stability and greater energy output which leads to increased turbine life and furnace efficiency. Therefore leading to lower maintenance and running costs and increased financial returns.

Calorific adjustment of natural gas or LNG vaporized gas

Cost Reduction of fuel gas and stabilization of quality

Calorimetry and composition analysis of steel by-product gas

Efficient reuse of steel by-product gas and improvement of the production efficiency by automating the operation of the furnaces properly

Calorimetric measurement of petroleum refined by-product gas

Efficient reuse of by-product gas

Power to Gas
(H2 injection and/or Methanation)

Accurate calorimetry of natural gas containing hydrogen

Optimization of calorific values in glass production, pottery production and food production

Stabilization of product quality and improvement of production efficiency

Determination of transaction price

Real-time calorific value (CV) fiscal metering
* OIML R140 Class A Approval

Methane Number (MN) measurement

Control and prevent engine knocking

Combustion optimization at waste incinerators

Maintain efficient or accurate combustion
Supported Gas List
Natural gas
Steel gases (COG,BFG,LDG)
LPG
Natural gas with Hydrogen
Flare gas
Methane
Natural gas with LPG
Boil-off gas
E-methane
Renewable natural gas
Off-gas from refinery
Butane
Biogas
Methanation gas
Low calorie gases, and so on
Biogas with LPG
Hydrogen
Any other gases can be accommodated by customizing our sensors or the settings.
Feel free to contact us for more information.
RIKEN OPT-SONIC method
World's first RIKEN OPT-SONIC method
Evaluating the calorific value of fuel gas by measuring the sound speed and the light speed passing through the fuel gas.
Measurement

deviation

caused

by

gas interference
The OHC-800 Opt-Sonic gas calorimeter uses two sensors, an optical sensor, and a sonic sensor.
Each of these sensors independently measures calorific value. When measuring fuel gases, interference gases such as N2, CO2, O2, and CO will affect the sensor response in different ways.
Riken Keiki discovered a correlation between these sensor response deviations caused by interference gases.
Applying the opt-sonic calculation means the effects of fuel gas interferences can be negated; ensuring truly accurate and repeatable Calorific Value measurements.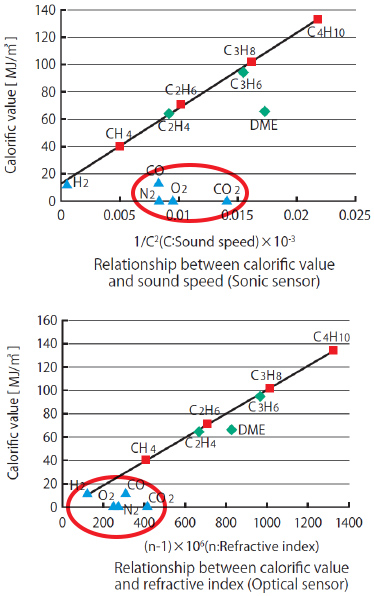 Opt-Sonic

calculation

explained
Riken Keiki have discovered a correlation between optical and sonic sensors whereby the ratio of measurement deviation remains constant, which is approximately 2.20 regardless of the gas type.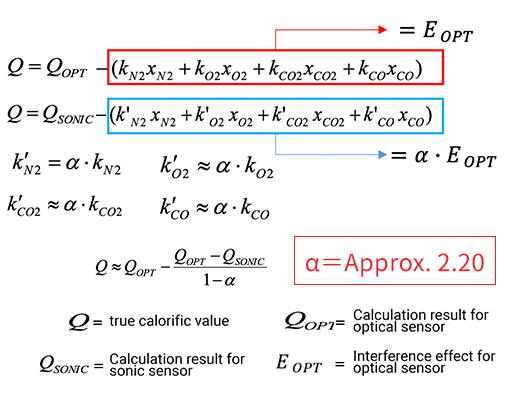 Applying

the

opt-sonic




calculation
Applying the opt-sonic calculation eliminates interference effects, thus giving truly accurate Calorific Value (CV) measurements.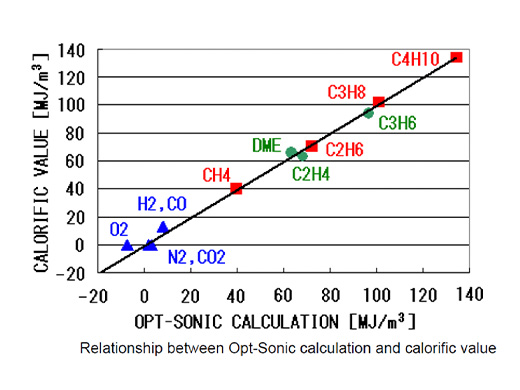 Proud of delivering over 200 units all over the world
We are proud to have delivered more than 200 units of OHC-800 to major engineering companies, gas companies, and turbine manufacturers all over the world.
Utilizing our established overseas network, we are expanding sales to overseas markets.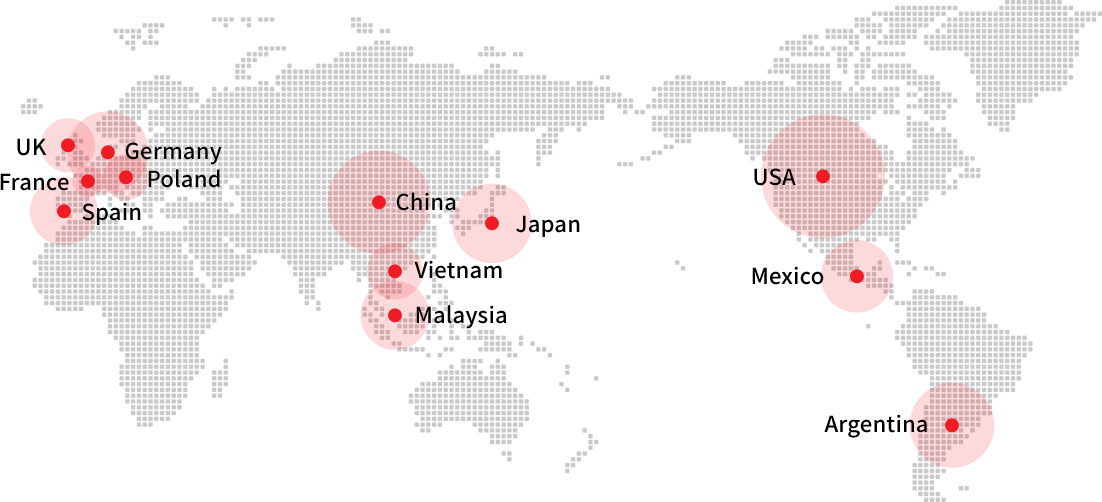 Customer Testimonials
Customer feedback from those already using the OHC-800.
It can help prevent sudden accidental fire.
Basically, OFF gas is used for power generation and boiler fuel, which made calorific values change suddenly due to changes in the operations and eventually the stops might be concerned.
OHC-800 can help prevention of such sudden accidental fire thanks to its feature to measure the calorific values of gases ranging in composition types and their proportions, and catch such sudden changes.
The running cost for OHC-800 is relatively low despite it is basically high in analyzers.
Drastic reduction in the maintenance hours and costs.
High cost of consumables and maintenance has been some troubles in the past, which is caused by measurement of by-product gases in iron making with analyzers and other principles.
By-product gas should be significant equipment because it is used for fuel for power generation and heat source fuel so as to affect the operations.
The maintenance hour and its cost has been enabled to be reduced thanks to the physical sensor (*) which does not require consumables.
(*) Excluding preprocessing filter
We are really satisfied with the measurement accuracy and response speed.
The composition of LNG to be used as fuel for gas turbines coming into Japan has been diversifying year by year, especially the amount of mixed gases. OHC-800 is the best one to measure calorimetry of the gases whose compositions are fluctuated so much, and the measurement with the other calorimeters using measurement of physical quantity instead is also so much fluctuated. We are really satisfied with the measurement accuracy and response speed.
Relief as if a "craftsman" is here.
Calorific control during heat treatment is extremely important for quality at a glass manufacturing site.
OHC-800 is really helpful, because its controllability and monitoring performance both are so good and the response speed is also very high.
We feel like there is "craftsman" who can check color of the flame in the furnace and monitor the calorific value, which can make us feel relief.
Certifications / Approvals
ATEX Certified product

IECEx Certified product

FM Approved product

CE Marking

Japan EX Certified product

OIML R140 Class A
Certified product
Product Specification
Model

OHC-800
Measuring principle

Opt-Sonic method through measurement of light speed and sound speed
Measuring gas (*1)

CH4 basis Paraffinic Hydrocarbon gases as represented by Natural Gas (*2)

(*1) We are capable of measuring many types of gas. Contact us for details.
(*2) Total concentration of interference gases such as N2, O2, CO2, CO etc. contained in a target gas is estimated as less than 20%
Measuring targets

Calorific value (Density / WOBBE index selectable)
Measuring range (*3)

Calorific value : 25.00 - 50.00 MJ/m3 (Gross, 0 degree C, 101.325kPa converted)
Density : 0.500~1.500 MJ/m3 (Specific gravity converted)

(*3) Contact RIKEN KEIKI for the other measuring ranges
Measuring method

Constant-flow-rate gas introduction using external sampling devices
Display

Full-dot LCD (with backlight), 3 color LED lamp
External Output

4-20 mA DC (isolated, source current type) maximum load resistance of 300 Ω / RS-485 communication
Failure alarm

Low flow, Sensor unit abnormality, Low light amount
Failure alarm display

Lamp (red) / Content indication on LCD
Failure alarm contact (*4)

No-voltage contact 1a or 1b De-energize (Energize when alarming) or Energize (De-energize when alarming)
Contact capacity of 2 A, 30 VDC (resistance load)

(*4) Contact setting is adjustable
Self-diagnostic function

FUNCTION CHECK (warm-up or maintenance mode), MAINTENANCE REQUIRED, OUT OF SPECIFICATION
Self-diagnostic display

FUNCTION CHECK, OUT OF SPECIFICATION : Lamp (orange) / Content indication on LCD
MAINTENANCE REQUIRED : Lamp (green) / Content indication on LCD
Self-diagnostic contact
(*4)

FUNCTION CHECK, OUT OF SPECIFICATION : No-voltage contact 1a or 1b
De-energize (Energize when alarming) or Energize (De-energize when alarming) Contact capacity of 2 A, 30 VDC (resistance load)
MAINTENANCE REQUIRED : SSR contact, contact capacity of 20 W, 240 VAC (resistance load)

(*4) Contact setting is adjustable
Power supply

100 - 240 VAC ±10%, 50/60 Hz, max. 18 VA or 24 VDC ±10%, max.
5 W (The setting can be changed to either the AC or DC)
Ingress Protection level

Equivalent to IP66 and IP67
Operation temperature

-20 to+60 ℃ (-4 to +140 ℉)(ATEX / IECEx)/ -20 to+57 ℃ (-4 to +134.6 ℉)(Japan EX)
Operation humidity

95%RH or less (no condensing)
Outer dimensions / Weight

Approx. 286 (W) x 453 (H) x 150 (D) mm / Approx. 23 kg (50.7 lbs)
Explosion-proof structure

Flame-proof enclosures (Explosion-proof class: ExdⅡB+H2 T4 <Japan EX>/Ⅱ2GExdⅡB+H2T4 <ATEX/IECEx>)
About us
Since our company was founded in 1939 under the umbrella conglomerate of RIKEN, our management philosophy has been to create safe working environments. Our science and technology research laboratories have developed industrial gas detection warning devices, specialising in monitoring harmful gases in the work environment, as well as for explosion prevention from combustible gases.
Without compromise, we continue to challenge ourselves to be technological leaders, developing and manufacturing a wide range of industrial gas detection systems and monitors. From large-scale gas detecting alarm systems to small-sized personal gas monitors for safety protection; used in many industries including semiconductor and LCD plants, petroleum complexes, steelworks, various tankers, oil storage stations, underground gas facilities, and volcanoes.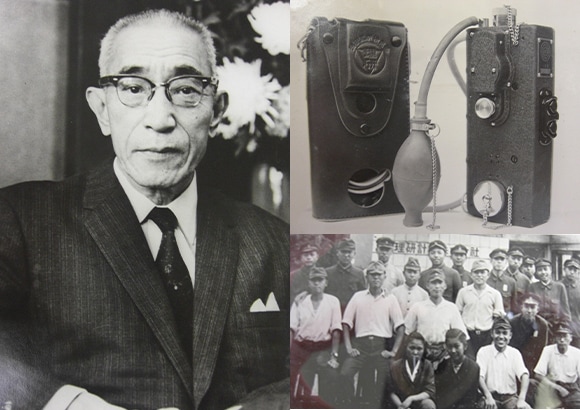 Experts in gas detection for over 80 years
The "RIKEN Gas Detector" utilising the principle of light wave interference, was exhibited at the 1937 Paris World Exposition. Its subsequent use greatly contributed to the prevention of accidents in coal mines where many fatalities were prevalent at the time.
On the 15th March 2019 we celebrated our 80th anniversary. Supported by our history and tradition we shall further improve long established technology, and continue to innovative. Developing reliable quality products in response to the diverse needs of industry.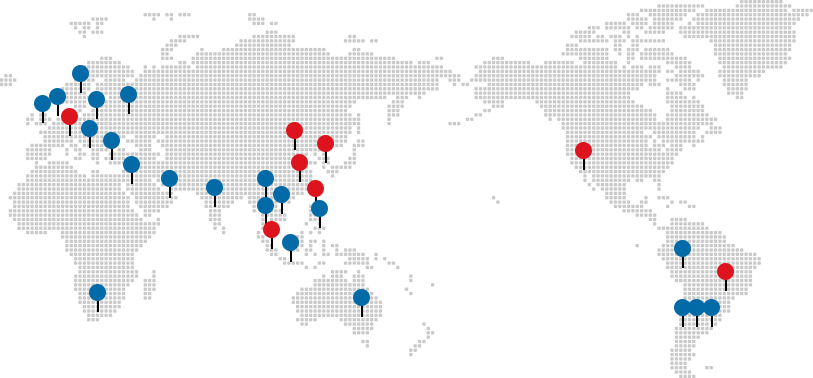 International Network
We have established a mature global network of affiliated companies and distributors across all the world, so our products can be locally supported with confidence.
Affiliated company
Distributor