RIKEN KEIKI Gas Sensor Technology for
Decarbonization
Purity
monitoring

LEL /
leak detection

Explosion-proof
function

Custom
measurement
SOLUTION
Combining high-precision gas sensor technology to support decarbonization
RIKEN KEIKI's patented technologies are integrated into a number of its gas sensors, and by combining these sensors together, it is possible to measure gas in a variety of situations.
Measurement performance for methanation
Methanation, the conversion of H2 and CO2 into methane, the main component of natural gas, is an extremely effective technique in helping realize decarbonization.
It is necessary to monitor the concentrations of H2, CO2, and CH4 generated during the methanation process.

Presentation Download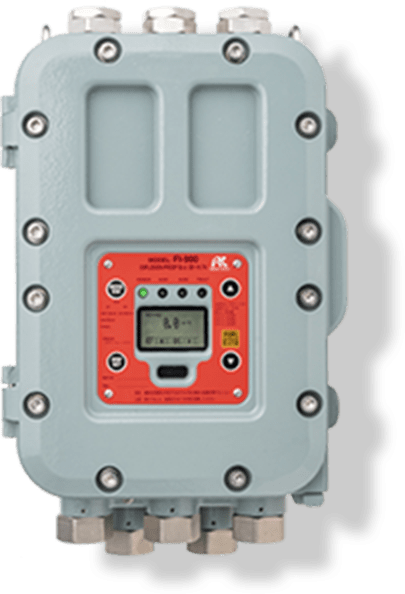 Inside RIKEN KEIKI's OHC-800 are two kinds of sensors: an optical sensor and a sonic sensor. By employing RIKEN KEIKI's very own Opt-Sonic calculation method, which was originally conceived to measure the calorific values of fuel gas, the OHC-800 can derive both the concentrations of H2, CO2, and CH4, and the calorific value of the mixed gas, all within one unit.
Measuring the total amount of carbon in flare gas
To move ahead with decarbonization, it is necessary to know how much CO2 is generated when flaring gas.
From figuring out the amount of CO2 that is released during gas flaring to helping find ways of recycling flare gas into usable energy (fuel gas), you will find a solution to your problem in RIKEN KEIKI's gas measurement system.

Presentation Download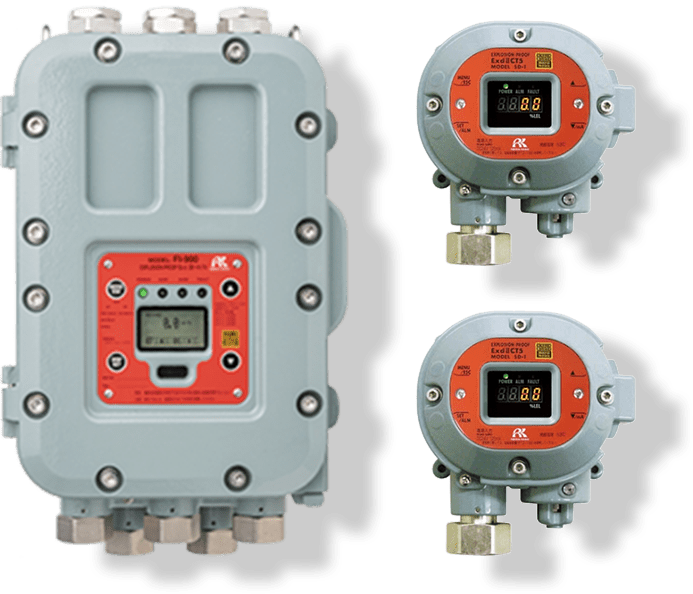 Our gas measurement system combines three high-precision sensors to measure the composition of flare gas and contributes to the reduction of CO2 emissions.
FLOW
Customer inquiry process
① Inquiry and consultation

First, please send us your inquiry using the contact form.

② Assessment

We will try to understand the challenges you are currently facing or requirements you may have. Please feel free to ask about cost, lead time, or other issues you may be unsure about.

③ Proposal and estimate

Based on your requirements, we will propose a suitable solution/system and cost estimate through your local Riken Distribution partner

④ PO and Delivery

If you are satisfied with the proposal and estimate, please place your order to your local Riken distributor and we will fulfill it accordingly.
Case Study
Stable methanation
In the process of synthesizing hydrogen and CO2, we need to monitor if it is proceeding as it theoretically should. With RIKEN KEIKI's OHC-800, we can accurately measure individual concentrations of H2, CO2, and CH4, and the calorific value of the mixed gas, all with one device. It also has a fast response time, which is useful for real-time monitoring of the production process.
Flare gas composition analysis
For decarbonization to progress, there is a need to recycle flare gas and capture the carbon from that gas. What we needed first was a simple system to monitor the amount of carbon in our flare gas. After consulting with RIKEN KEIKI, they provided us with a composition analysis performed by the dual-sensor configuration. RIKEN KEIKI's system is explosion-proof and capable of continuous measurement, but not as expensive as an analyzer. For those reasons, we believe that this was the right measurement system for our worksite.
Analyzing gas generated from an IGCC furnace
Apart from being able to measure calorific values using alternative physical quantities, the OHC-800 is easy to maintain and capable of continuous measurement, which, we think, also makes it well suited as a control device. Not only that, by adding extra sensors, it can measure concentrations of the main components of gases generated by an IGCC system, so it checked all the boxes we were looking for in terms of performance.
Hydrogen sensor for vehicles
In hydrogen vehicles, water is generated when producing energy using hydrogen, so we believe a sensor that can be used even in a high-humidity environment is necessary. The FHD has a heater function, and because it is a sensor that can be used even in environments where humidity could be high, it is useful as an automotive sensor.
High-concentration CO2 sensor
A good lineup of products to choose from. The OHC-800 has a good track record of working in CCS (carbon capture and storage) plants. CCS utilizes off-gases from oil after H2 and CO2 have been removed from them. The OHC-800 is also capable of analyzing the original composition of off-gas. We were looking for something that was simple (inexpensive, easy to measure) and could measure these things and came across the OHC-800.
Gas detector for hydrogen carriers
RIKEN KEIKI has a hydrogen gas detector that complies with IEC standards, as well as a full lineup of detectors for gases other than hydrogen. They can also provide maintenance services anywhere in the world.
HYDROGEN ENERGY
Hydrogen is receiving worldwide attention in the drive towards a carbon free society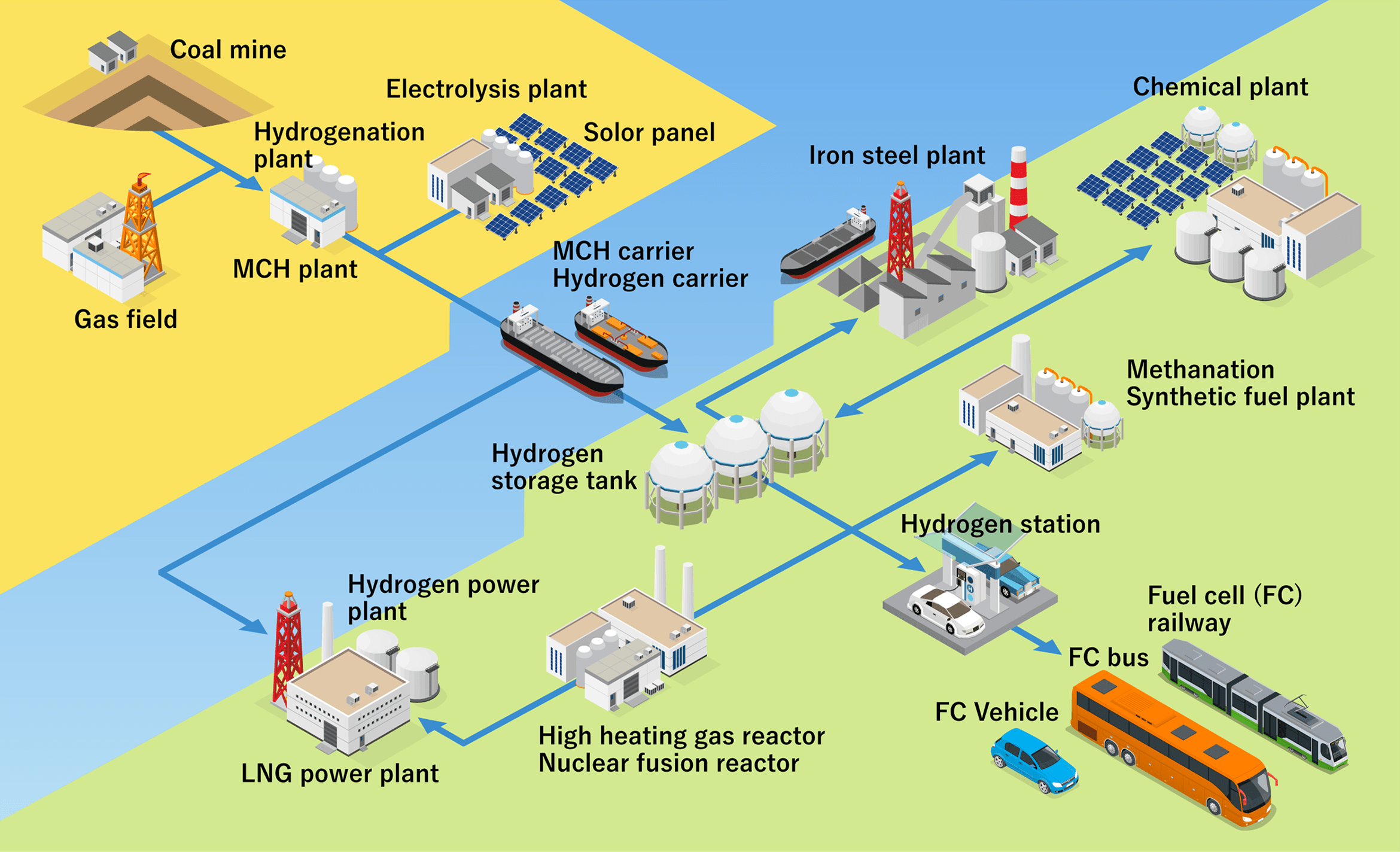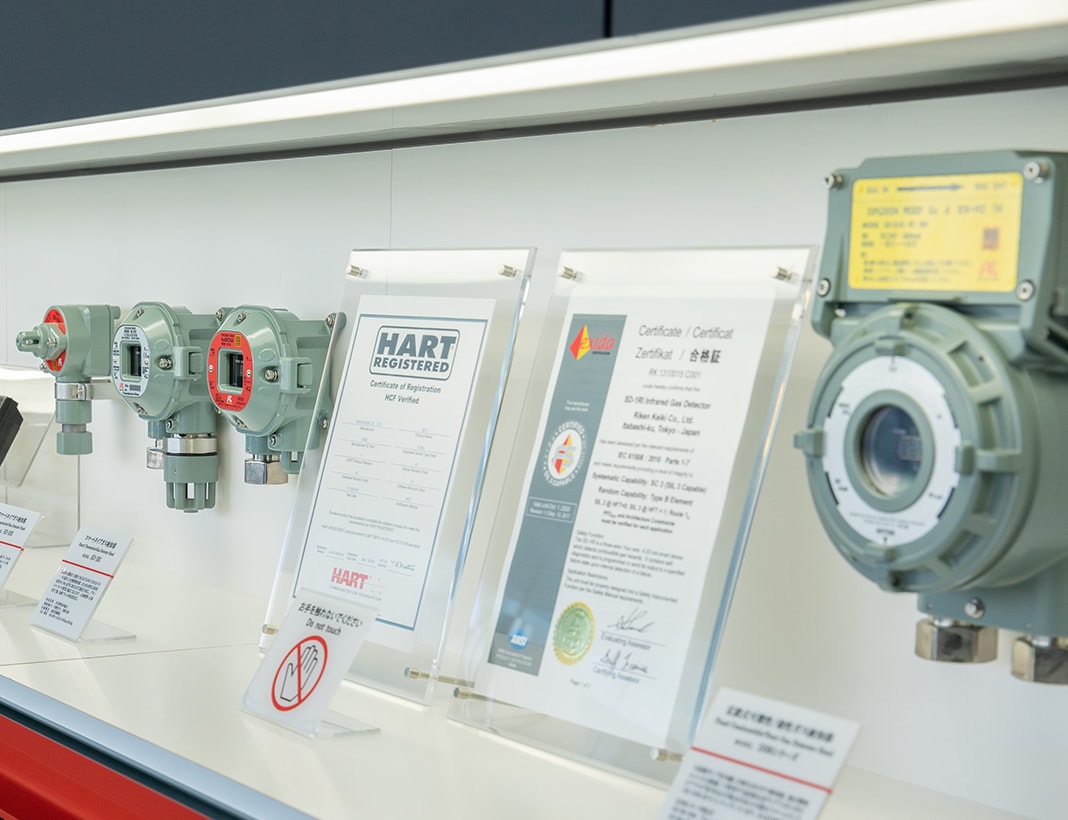 Wide range of products for hydrogen
Hydrogen holds great potential as a key solution in the global transition to clean energy, and RIKEN KEIKI's hydrogen sensing technology is playing an active role in various industries. We have a wide range of hydrogen-related products to cover all kinds of scenarios, whether it be production, storage, transport, supply, or usage.
Hydrogen sensor application example in a hydrogen supply chain/platform
Hydrogen production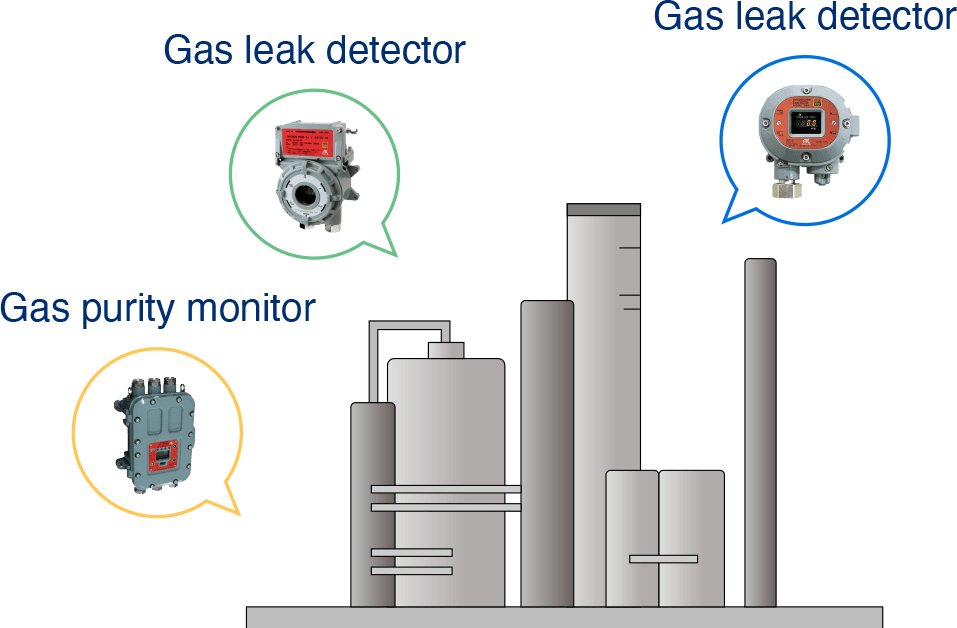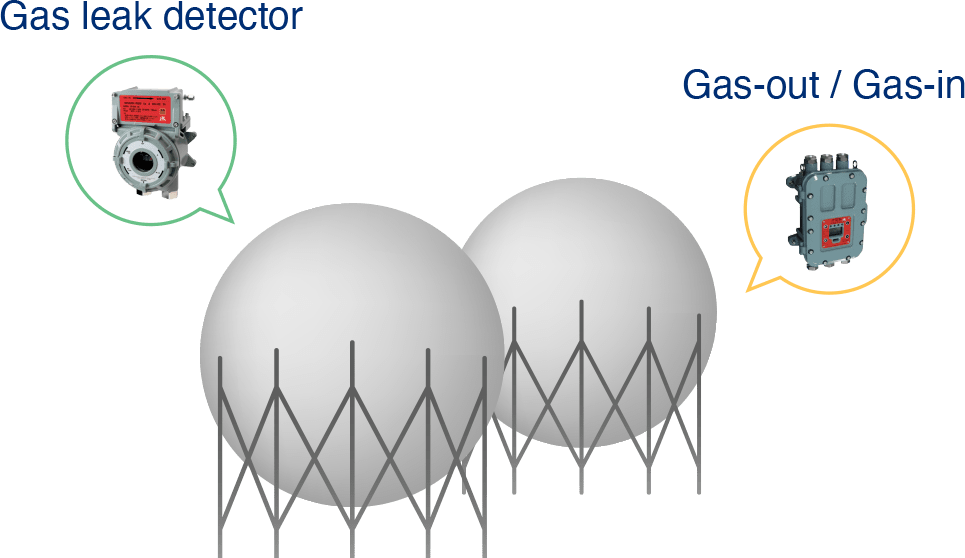 Hydrogen transportation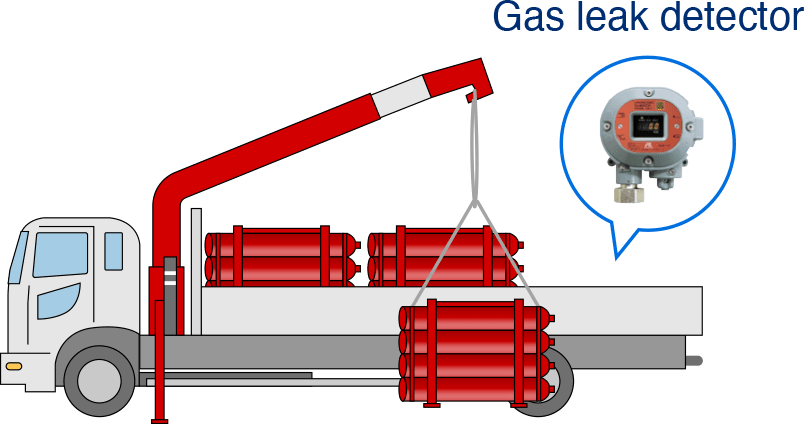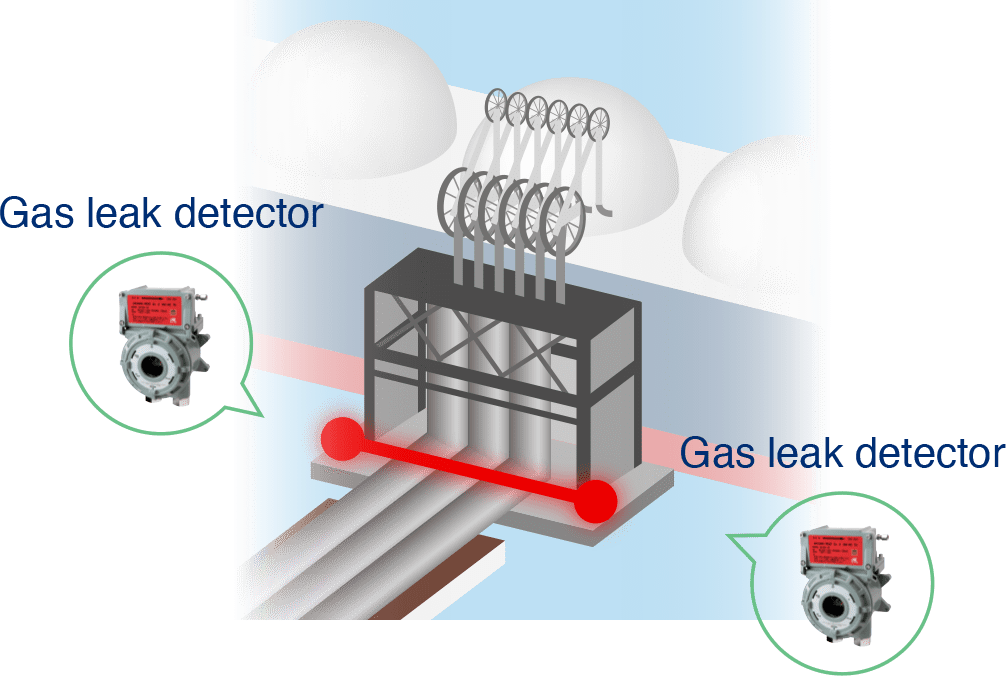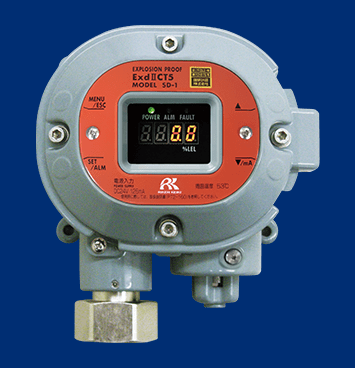 SD-1(Type NCW)
Diffusion-typePPM LEL Wide-rangeSelf-diagnosticConcentration display
Product details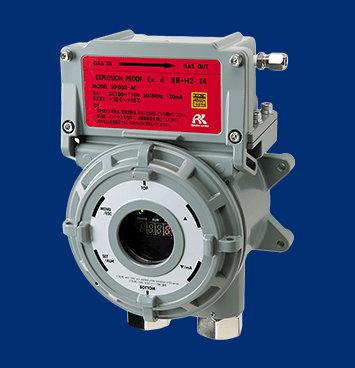 SD-D58(Type NCW)
Suction-typePPM LEL Wide-rangeSelf-diagnosticConcentration display
Product details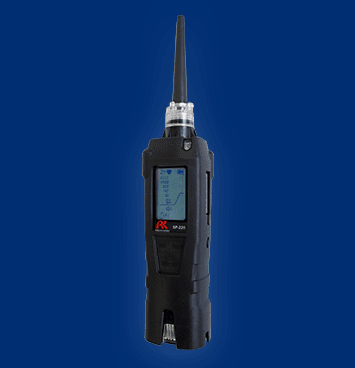 SP-220
Built-in pump or hand-aspirator selectableHigh accuracyPortable
Product details
Hydrogen usage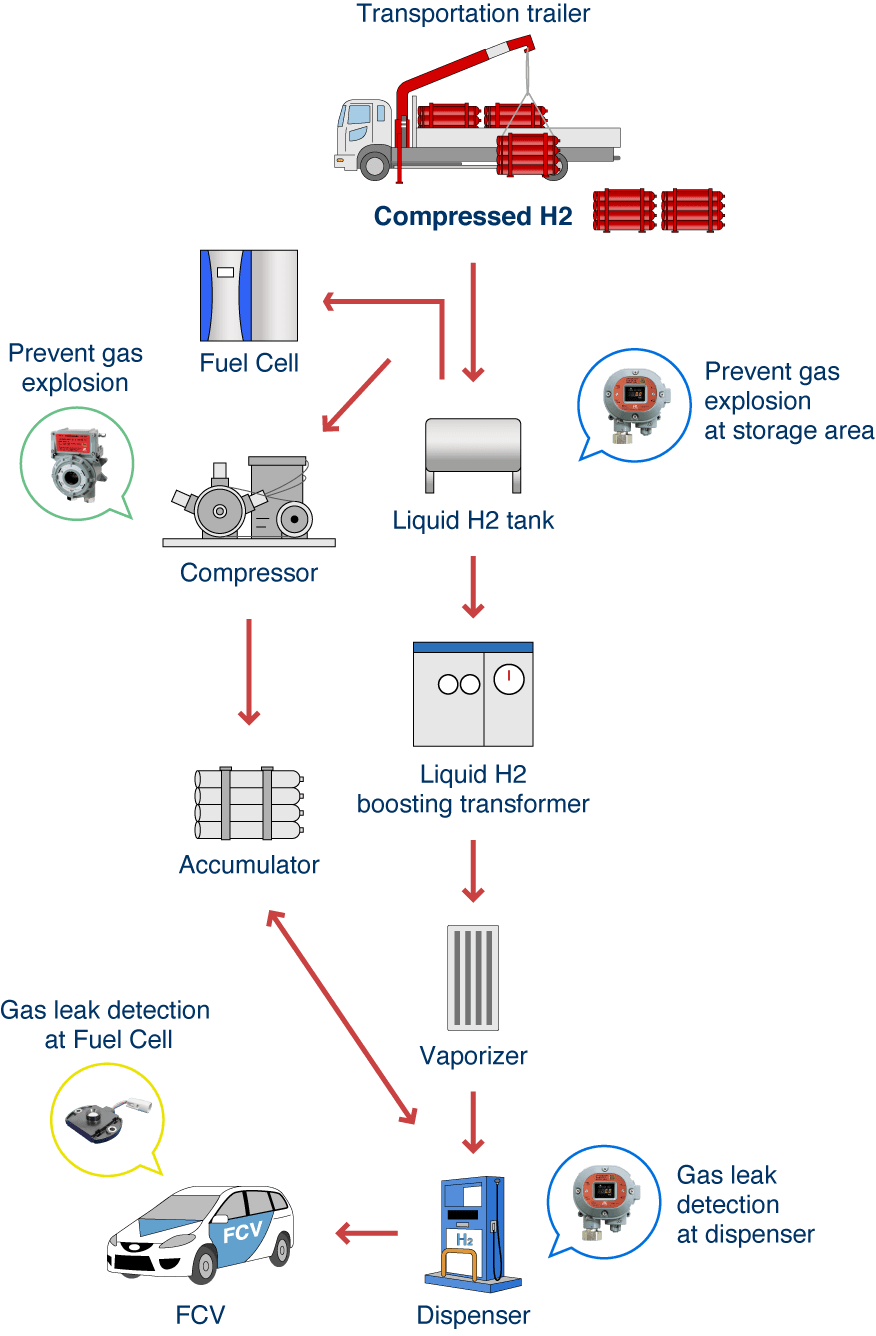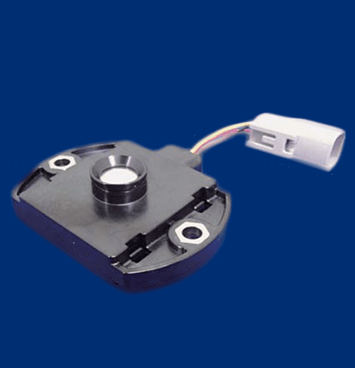 FHD-752
Hydrogen vehicle leak check sensorWide operation temperature rangeQuick startupEarly low-concentration gas detection
Product details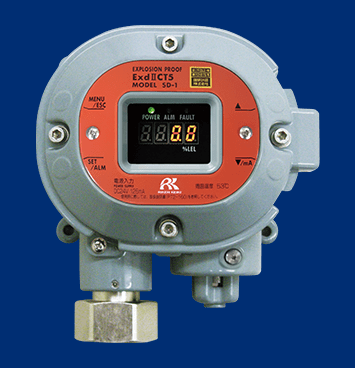 SD-1(Type NCW)
Diffusion-typePPM LEL Wide-rangeSelf-diagnosticConcentration display
Product details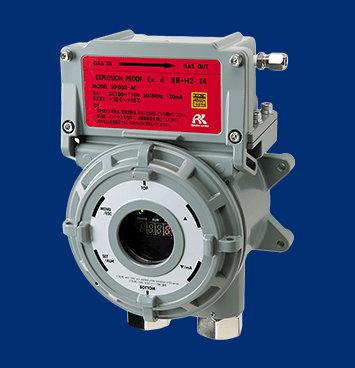 SD-D58(Type NCW)
Suction-typePPM LEL Wide-rangeSelf-diagnosticConcentration display
Product details
Hydrogen power generation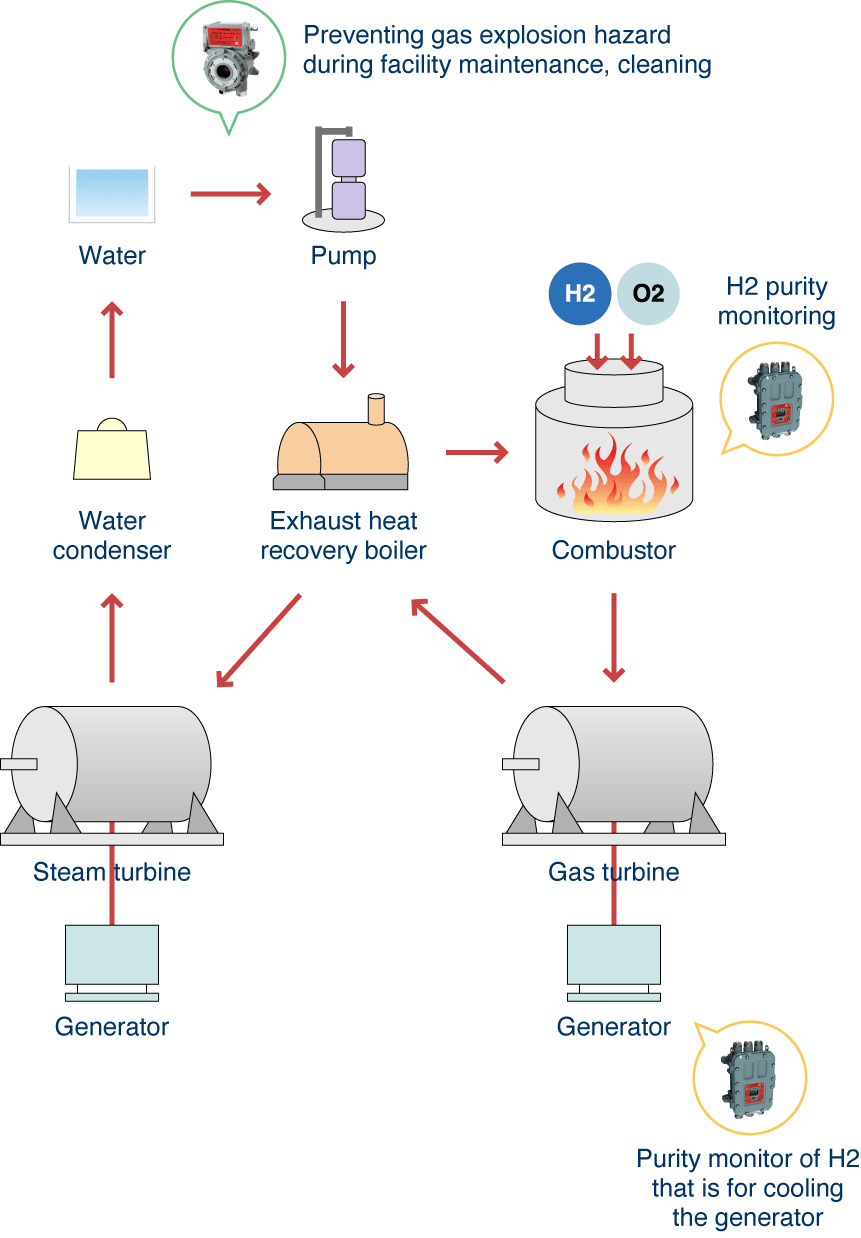 Extensive international network
for reliable and complete support
Utilizing our established overseas network, you could purchase
our product and services all over the world.
Affiliated company
Distributor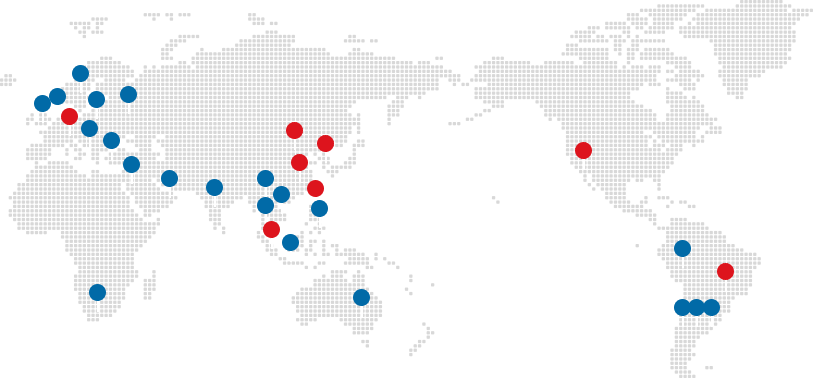 About us
Since our company was founded in 1939 under the umbrella conglomerate of RIKEN, our management philosophy has been to create safe working environments. Our science and technology research laboratories have developed industrial gas detection warning devices, specializing in monitoring harmful gases in the work environment, as well as for explosion prevention from combustible gases. Without compromise, we continue to challenge ourselves to be technological leaders, developing and manufacturing a wide range of industrial gas detection systems and monitors. From large-scale gas detecting alarm systems to small-sized personal gas monitors for safety protection; used in many industries including semiconductor and LCD plants, petroleum complexes, steelworks, various tankers, oil storage stations, underground gas facilities, and volcanoes.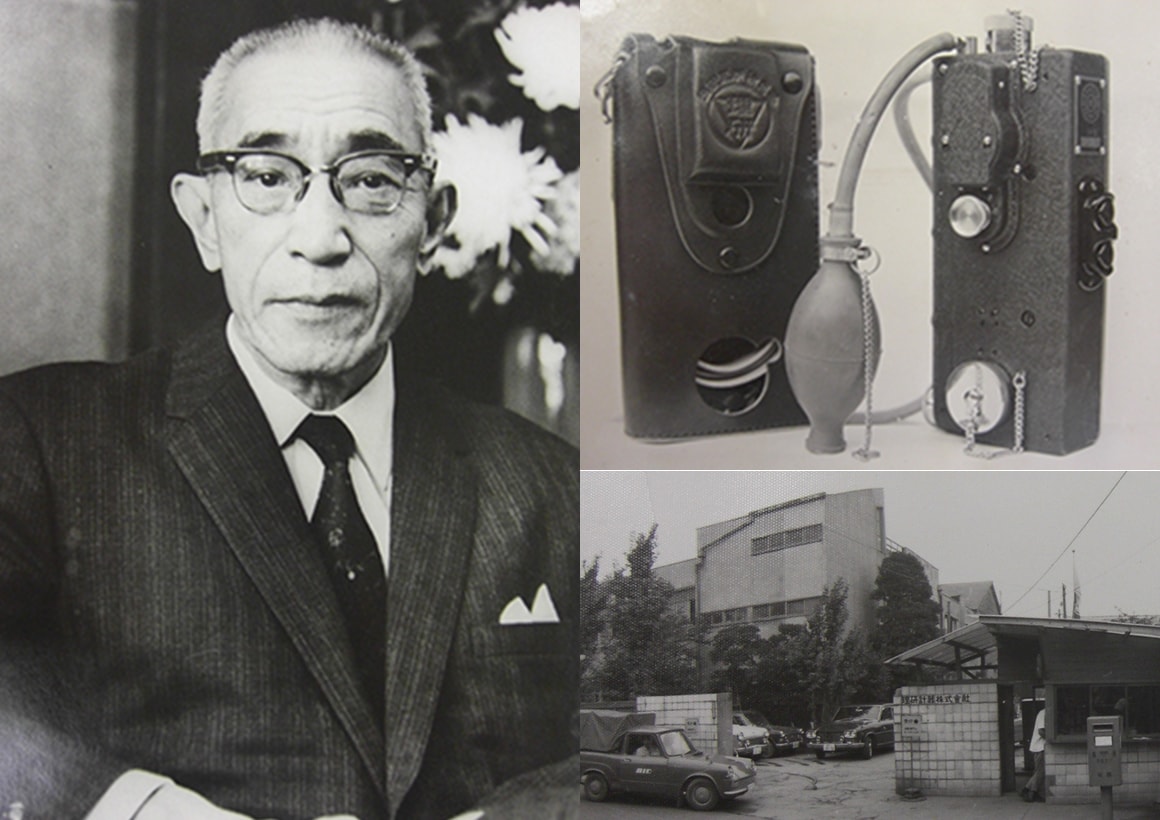 Experts in gas detection for over 80 years
The "RIKEN Gas Detector" utilizing the principle of light wave interference, was exhibited at the 1937 Paris World Exposition. Its subsequent use greatly contributed to the prevention of accidents in coal mines where many fatalities were prevalent at the time. On the 15th March 2019 we celebrated our 80th anniversary. Supported by our history and tradition we shall further improve long established technology, and continue to innovative. Developing reliable quality products in response to the diverse needs of industry.